4 Luxury Vacation Villa Rentals with Ocean, Mt., Rivers and Jungle Nearby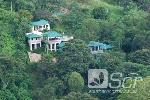 Perfectly centered between Domincal and OSA, nestled on the lower slopes of the Costeña Mts, with rivers below and beaches nearby, you will find yourself in a spaciously inviting, fully equipped luxury villa, very private and tranquil with an spectacula rancho, pools and an eco-spa
The Mango Tree villas and spa allows you a real eco-experience on the most beautiful Pacofic coast of Costa Rica, near the eco-biodiverse OSA Peninsula, one of the largest mangroove areas in the world, 9 beaches, waterfalls, horseback ridding to very non-touristy places, and gorgeous green mountain and turquiose ocean views. You will have access to numerous activities like diving or snorkeling at Caño Island, visiting the caves of Ventanas beach, Wilson Botanical Gardens in the gorgeous city of San Vito, or Paradis Botanical Gardens in Rio Claro, mangrove tours, whale watching, giant turtle and dolphin sighting or fantastic deep sea fishing. Or, if you are seeking a retreat to spawn or continue your creative bents like writing that book, painting or learning about medicinal plants, this is the place to find the quiet to do just that.
This location is perfect for small weddings, honeymoons, family gatherings, romantic get a-ways, health enthusiasts, eco-minded, those in recovery and those looking to slow down and get away from consumerism, from stress, tired, writers, painters, and garden enthusiasts.
We try to be as eco-minded as possible, minimizing our impact: in this gorgeous, lush environment. Our water is mountain spring water and is wonderfully healthy and refreshing. Our Rancho under cover, contains an open fully furnished kitchen allowing you to cook while basking in the spectacular panoramic view of the Costeña Mts., and a peek-a-boo view of the Pacific. This is the perfect atmosphere for cooking, swimming in one of our two pools and enjoying the lush jungle and rushing river sounds of the Coronado River below. Of course you can always cook in your fully furnished kitchen in your very lovely villa.
Our villas have gorgeous high ceilings with a large front terrace right in the tree tops. This will allow you to wake up in the rainforest canopy to toucans, large green parrots that announce the coming rain with their continuous chatter, small orange throated parakeets and over 50 other tropical birds that have been cited on the property. We have spotted sloths, a black leopard family, weasels, raccons, the white faced monkey, iguanas, glass frogs, giant toads and gekos close by.
We are 1 1/2 miles from the main road allowing for privacy and security. You will find the mango a real jewel on the coast. At the main road, there are two small grocery stores, three restaurants, a bowling alley, soccer field and meat store. In nearby Ojochal are several superb restaurants including Citrus, Exotica and llang Ilang. There is a 9 hole golf course 4km south as well as the newest and longest zipline 15 minutes south. This whole coast line of approximately 60 km has many diverse and unusual sites, activities and places to explore. We are right in the middle of a truly glorious experience.
(0) Comments
Add Comment

Close
Be the first to comment on this listing!
Advertising
Gallery
Click the photos to enlarge
Features
Features
Air Conditioned
Car Rental
Kitchen
Hot Water
Internet
Jacuzzi
Private garden
Laundry
Parking
Pool
Refrigerator
Restaurant
Vegetarian-restaurant
Spa
Fan
Mountain View
Ocean View
Theme
Honeymoon
Adventure
Luxury
Golf-Spa
Families
Hiking
Bird Watching
Beach
Ecotourism
Mountains
All Inclusive
Traveler Type
Families
Single
Couple
Group
Details of prices
Lowest price $ 33
Prices depend upon number of occupants, the season and the lenght of stay. Please call for special pricing (Click the view phones at your Right hand) so we can determine how many occupants and ages and how long the stay will be. Four is the limit we suggest, but occasionally we allow 5 in a villa. Price also depends on the length of stay. Short stays are more costly than long term rentals. Our prices vary from $33 /night for month long stays to $109 for one night stays. The posted rates can be found on our website under the rates section.
Map
Book