Snorkeling Tours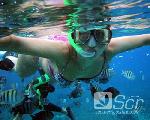 Awake your spirit of adventure and exploration practicing snorkeling!
Come and open your eyes to the many wonders that the Central Pacific of Costa Rica has to offer. Allow our bilingual guides and experts of the area to show you around the warm waters of Manuel Antonio, enjoy the volcanic rock formations, pyramids, canons, and endless array of fauna and flora fun waiting for you!
We seek no requierments, advanced or beginers, everyone is invited to our marine festival.... safety equipment, highly trained guides, and captain guarantee a unique experience just 15 minutes from Manuel Antonio National Park.
It is important to participate in this adventure, and to keep in mind that you are a guest in this wonderful underwater kingdom....enjoy and respect our environment.

Schedule:
8:00 a.m. / 11:30 a.m.
Transportation to and from your hotel is provided. After your pick up, we will take you on a path of about 250 mts, where it is possible to observe white face monkeys, squirrel monkeys, sloths, etc, and finally a beautiful hidden white sand beach awaiting you.There the captain will lead us to our snorkeling adventure... safety chat,instructions, revision of equipment and we are ready....see you underwater!!
To make this an unforgettable adventure, after snorkeling we will stroll along the coast...so that from the sea, you can appreciate the beauty of Manuel Antonio (Costa Rica).
(0) Comments
Add Comment

Close
Be the first to comment on this listing!
Advertising
Gallery
Click the photos to enlarge
Features
Theme
Adventure
Beach
Aquatic
Traveler Type
Families
Single
Couple
Group
Details of prices
Lowest price $ 45
Snorkel Adventure Costa Rica
Prece:$45
Map
Book
Lodgings in the area
Conservation Areas
Not have Conservation Areas in Manuel Antonio but we present these other options:
$ 45
Contact Data
Contact
Book
Menu
Contact
Advertising
All inclusive packages
Not have Packages in Manuel Antonio but we present these other options:
Transport options
Restaurants in the area
About the area
Not have Description of Cities in Manuel Antonio but we present these other options: