Ronnys Place Restaurant Mirador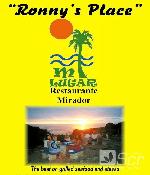 Mirador & Restaurant Ronny´s Place, a beautiful "ranch" at the peak of the highest mountain of the property, allowing a magnificent view of a beach in a private bay and the skyline
We are located in the center of an estate of 90 hectares, we are the only one building in the property.
In Ronny´s Place you can find a cozy atmosphere, where you will enjoy delicious dishes ..!
Our prime location makes us the only restaurant in town where you can watch the sunset 365 days a year.
A perfect place for rehearsal dinners, romantic dinners at sunset, birthday parties and any special
event in which a beautiful sunset was appropriate.
After many years of working for one of the best hotels in the area, Mr. Ronny Alpizar decided to start his own business.
Enjoy our delicious "Pina Colada", served in the same pineapple and try our exclusive "Coco Loco" cocktail and finally find out why the Lonely Planet recommends our "bleeding" as the best in the country!
(0) Comments
Add Comment

Close
Be the first to comment on this listing!
Advertising
Gallery
Click the photos to enlarge
Features
Map