Shana Hotel located in the Cental Pacific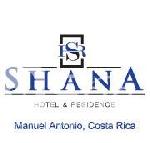 Shana Hotel Residence Located along the Central Pacific Coast of Costa Rica, the Shana Hotel is only few minutes far from the most popular beach destination in Costa Rica, Manuel Antonio.
Shana Hotel is the world's leading brand in exclusive lifestyle boutique hotels. Embracing the culture, beauty, purity and perfection of its natural environment. Shana Hotel in Manuel Antonio, guarantees guests a unique and exclusive travel experience. Complimented by distinguished design, organic local cuisine, ecological adventures and exceptional hotel amenities, this new hotel in Costa Rica is among of the most exclusive and prestigious lifestyle hotels in the world. With that premise in mind, the Shana Hotel provides visitors a fabulous election of 27 rooms,12 Residences all with exceptional garden and ocean views. Choose from Superior or Deluxe Rooms, Junior Suites, Family Residences or pamper yourself in the Shana Hotel & Spa Lifestyle Suite", a 3 bedroom luxury unit with its own private infinity pool and full kitchen facilities! Book today to start enjoying your dream Manuel Antonio Costa Rica vacation getaway!
(0) Comments
Add Comment

Close
Be the first to comment on this listing!
Advertising
Gallery
Click the photos to enlarge
Features
Features
Bar
Conference Center
Hot Water
Internet
Jacuzzi
Private garden
Laundry
Parking
Pool
Restaurant
Spa
Mountain View
Ocean View
Theme
Honeymoon
Luxury
Families
Beach
Mountains
Traveler Type
Families
Couple
Group
Map
Book
Activities in the area
Conservation Areas
Not have Conservation Areas in Manuel Antonio but we present these other options:
Contact Data
Contact
Book
Menu
Contact
Advertising
Transport
Restaurants in the area
Events Organization
Not have Event Organization in Manuel Antonio but we present these other options:
Tour Operators
About the area
Not have Description of Cities in Manuel Antonio but we present these other options: