Titi Canopy Tour-Manuel Antonio Quepos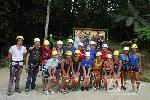 The exhilarating Titi Canopy Tour offers guests an exciting and informative adventure through a private tropical rainforest reserve in the same biological corridor as Manuel Antonio Park. 10 cables, hanging bridges, rappel, and tarzan swing are all included. Free transportation in the Quepos-Manuel Antonio area.
Perfect Safety Record
Abundant Wildlife including Monkeys
Minutes from Manuel Antonio and Quepos
The other Canopy Tours are 45-60 Minutes Away!
Imagine yourself soaring high above the jungle floor as you fly through tree tops, amongst some of the most beautiful flora and fauna in the Costa Rican rainforest. The exhilaration of a zip line is, most likely, unlike anything you have ever experienced!
With a perfect safety record and state-of-the-art equipment, the Titi Canopy Tour in Costa Rica is the only eco-friendly zip line that takes guests through primary and secondary forest tree tops among three species of monkeys. Our staff of professionally trained guides shows guests the abundant wildlife along the way; including Titi monkeys, two and three toed sloths, poison dart frogs, iguanas and toucans.
During your two hour journey, you will be perched on one of 16 platforms high above the jungle floor with dramatic views of the valley. A series of zip line cables reaching up to 450 meters (1,475 ft) take guests throughout the unspoiled rainforest canopy on an exclusive tour. Breathtaking mountain and valley views can be captured while resting in a bungalow high upon the hill.
Skillfully designed nature walks rivaling those found in Manuel Antonio National Park and a beautiful butterfly garden are all incorporated on the grounds of the Titi Canopy Tour. Guided nature walks and tours can be reserved in advance.
Upon conclusion of your canopy tour, guests gather for drinks, fresh fruit and snacks. Additional beverages and appetizers are available at our restaurant, Los Senderos, which has a fantastic reputation for serving superb food that is specific to our region. While resting and refueling your bodies, guides will share photos of your exhilarating Titi Canopy Tour zip line adventure.
For those with a more adventurous spirit, we offer a Night Canopy Tour. The thrill of flying on a zip line through the black veil of night is awesome. Guests enjoy the magic chirps of the forest that are only heard at night. You might encounter bright round eyes staring at you; belonging to a raccoon, olingo, kinkajou, four eyed opossum, sloth or anteater. Dinner at Los Senderos is included in the Night Canopy Tour.
Located just minutes from Quepos and Manuel Antonio, Costa Rica, the Titi Canopy Tour is a perfect place to enjoy an experience of a lifetime. Please call to reserve your zip line adventure today!
(0) Comments
Add Comment

Close
Be the first to comment on this listing!
Advertising
Gallery
Click the photos to enlarge
Features
Theme
Adventure
Bird Watching
Ecotourism
Families
Hiking
Honeymoon
Mountains
Other
Traveler Type
Families
Single
Couple
Group
Map
Book