Cabins Espadilla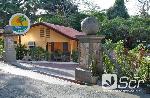 Located just 1 minute from the Manuel Antonio National Park. It has 16 comfortable rooms, swimming pool surrounded by terraces and beautiful gardens.
Espadilla Cabins is located just 200 meters from the main entrance of Manuel Antonio National Park. We offer a versatile and economical choice of accommodation, which combines standard rooms and rooms equipped for food preparation.
All our rooms have basic equipment air conditioning, safe, cable TV, wireless internert, coffee maker with daily supply of coffee, refrigerator, front runner, parking area, swimming pool and tennis court access. Includes buffet breakfast
(0) Comments
Add Comment

Close
Be the first to comment on this listing!
Advertising
Gallery
Click the photos to enlarge
Features
Features
Air Conditioned
Cable
Fan
Internet
Kitchen
Laundry
Parking
Private garden
Pool
Refrigerator
Restaurant
TV
Theme
Adventure
Families
Hiking
Honeymoon
Traveler Type
Families
Single
Couple
Group
Details of prices
Lowest price $ 99
HIGH SEASON 2013 (DEC 2012- APR 2013)
STANDARD $120
EFFICIENCY $133
LOW SEASON 2013 (MAY 2013- NOV 2013)
STANDARD $99
EFFICIENCY $110
RATES ARE IN DOLARS AND INCLUDE TAXES AND A COMPLETE BREAKFAST
Map
Book