Villas Prats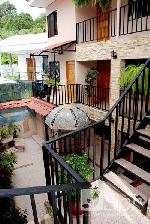 In Villas Prats, enjoy an unforgettable stay, surrounded by beautiful beaches, comfortable villas, relaxing massages and diversity of tours.! Experience something new hope they visit us, we know you'll like
In Villa Prats have put lots of details for you to enjoy your holidays in a complete atmosphere of friendship, camaraderie and expansion in a natural environment surrounded by lush plants and exotic birds.
We invite you to share unforgettable days in the company of our national and international guests in an environment where everything is you understanding and attention to our customers. Our clients are always members of the Villa Prats.

We have a beautiful freshwater pool, illuminated at night with BBQ area, channels to slide, bar surrounded by exotic plants and background music, this is a refreshing and welcoming area within the framework of Villa Prats.
Villa Prats just 15 meters from the main entrance of Manuel Antonio National Park and 25 meters from the beach.
We provide service dispocion Villa Prats professional masseuses available 7 days a week for your guests. Make your reservation and check on arrival rates, reducing massage, floral, basil, clay or simply relaxing massages are an experience not to be missed.
Services available:
* Parking
* A free call to USA or Canada
* Breakfast $ 5 per person, includes fruits, eggs, meat, hash browns, juice and coffee.
* Restaurant. (Closed during low season).
* 24-hour security.
* Laundry Service.
* Service 24-hour reception.
* Security Cameras throughout the Hotel.

Besides Diveros Tours such as:
Dolphin Tour.
Rancho Don Gilberto (riding).
Kayaking on the coast of Manuel Antonio.
diving
Sport Fishing
Canopy Tours
rafting
Series of trails that will allow tourists a direct contact with nature, full of trees and lush flora and fauna divesidad ...

Rooms for 1-3 persons are equipped with ...

* Cable TV.
* Air conditioning.
* Refrigerator
* Private bathroom with hot water.
* Cloth and soap for each occupant.
* Ceiling Fan.

Rooms for 1-4 persons are equipped with

* Cable TV.
* Air conditioning.
* Hot water shower.
* Cloth and soap for each occupant.
* Ceiling Fan.
* Kitchen cabinet.
* Electric stove.
* Microwave.
(0) Comments
Add Comment

Close
Be the first to comment on this listing!
Advertising
Gallery
Click the photos to enlarge
Features
Features
Air Conditioned
Cable
Fan
Hot Water
Internet
Kitchen
Laundry
Mountain View
Pool
Refrigerator
TV
Theme
Adventure
Beach
Ecotourism
Families
Hiking
Mountains
Traveler Type
Families
Single
Couple
Group
Number of rooms similar to this one your are adding now
0
Price of extra person in room, Please not use decimals
0
Details of prices
Lowest price $ 50
ROOMS FOR 1-4 PEOPLE
HIGH SEASON from December 16 to April 30
Price: $ 70 (includes 2 people per night, $ 10 extra per additional guest)

LOW SEASON May 1 to December 15
They come equipped with a kitchenette, a single bed, a double bed and a sofa bed.
Price $ 50 (includes 2 people per night, $ 10 extra per additional guest)

During the months of December to February minimum 3 nights

ROOMS FOR 1-3 PEOPLE
TEMPORADAALTA December 16 to April 30
Price: $ 60 (includes 2 people per night, $ 10 extra per additional guest)

LOW SEASON May 1 to December 15
They come equipped with a single bed and a double bed.
Price: $ 40 (includes 2 people per night, $ 10 extra per additional guest)
Map
Book