Parachute Tours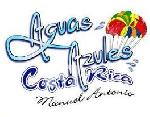 An adventure full of adrenaline, fly 600 meters above the ocean and enjoy this spectacular experience...
Aguas Azules Watersports & Tours, a fun filled adrenaline and adventure not to be missed in Manuel Antonio beach. You can relax knowing you are in safe hands and most experienced in choosing Blue Water for all your beach adventures,
Flying with Aguas Azules is completely safe and secure. Blue Water is fully licensed and insured and has an impeccable safety record. We have flown customers 3 to 80 years - all shapes and sizes! Anyone can skydive with blue waters.
Fly 600 hundred feet above the Pacific Ocean from the heights observe the beauty of Manuel Antonio, explore the best dive sites, experience world-class fishing, take a spectacular sunset at Manuel Antonio test their stamina in our skiing or wakeboard tours, or just visit the stunning coastline.
Remember not to forget to bring:
sunscreen

Hat,

Sunglasses

House.
(0) Comments
Add Comment

Close
Be the first to comment on this listing!
Advertising
Gallery
Click the photos to enlarge
Features
Theme
Aquatic
Adventure
Bird Watching
Whale Watching
Traveler Type
Families
Single
Couple
Group
Map
Book
Lodgings in the area
Conservation Areas
Not have Conservation Areas in Manuel Antonio but we present these other options:
Contact Data
Contact
Book
Menu
Contact
Advertising
All inclusive packages
Not have Packages in Manuel Antonio but we present these other options:
Transport options
Restaurants in the area
About the area
Not have Description of Cities in Manuel Antonio but we present these other options: