The Surfer Factory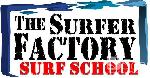 We are simply the best surf school specializes in helping surfers of all levels, from their first experience, intermediate and advanced.
SURF SCHOOL
Surf lessons for beginners:
This lesson for beginners surfing is a two-hour long surf. Includes surfboards, Lycra, transportation, complimentary beverages (water, energy assistance, iced tea), fruits, bilingual staff. Professional photography can be added to the lesson for an extra charge.
All our instructors are certified teachers ISA (International Surfing Association) and teaching in the last training and performance surfboards.
Beginner Group Surfing Lesson:
In these lessons of two hours introducing the basics of surfing etiquette, safety, wave dynamics, the skills of rowing, surfing, positioning maneuvers, the right foot, and driving techniques. We have two open groups and private groups available on request. Form your own private group with 5 or more. Special sessions for women or men only, weddings, bachelor / ette, holiday, corporate team building, school groups, church groups, birthday parties, yoga and surf retreats are also available.
Monitoring Group Surf Lesson:
Two hours of follow-up Group Lessons are designed for anyone who has taken any lesson or surf camp with us. Improve your skills! Join other students for more helpful tips from our Instructors Teachers with our specially designed tables.
Semi-Private surfing lesson:
Learn to sail in his own unique two hours Semi-private lesson with family or friends. These sessions offer a higher level of care that our instructor of classes in the standard group. With 2 students per teacher instructor that are adapted to fit any skill level or age.
Surf private instruction:
For those who want one-on-one surf lessons with our teacher trainers. These sessions are highly recommended for students who want to take their surfing to the next level of skill.
The factory has 10 instructors Surfer. There is an instructor for two adults and one instructor for every child.
(0) Comments
Add Comment

Close
Be the first to comment on this listing!
Advertising
Gallery
Click the photos to enlarge
Features
Theme
Aquatic
Adventure
Beach
Families
Honeymoon
Traveler Type
Families
Single
Couple
Group
Details of prices
Lowest price $ 55
Duration of any lesson: 2 hours and 30 minutes.
Add $ 30 per each extra hour to any lesson.
All rates include tax
:: STANDARD LESSON ............................................
$ 65
:: GROUP LESSON 5+ ............................................
$ 55
:: PRIVATE LESSON ................................................
$ 80
:: CHILDREN 4 - 10 yo ...........................................
$ 75
(always 1 instructor / child)
:: BOARD RENTALS .................................................
$ 17
(12 hours)
GROUPS LARGER THAN 50 PEOPLE REQUIRE A 24 HOUR NOTICE
Map
Book