Massage Jaco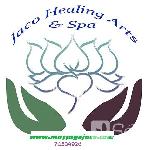 Jaco Healing Arts & Spa Massages - Yoga and Spa TReadments Couple massage duo massage in home or hotel Everything you want to know about spa treatments. From Massages to Facials and more.
Massage
Swedish Relaxation Massage
Relieve tension and soothe nerves through total body relaxation. Our expert massage therapists will help restore your sense of well being and reduce your stress level. This traditional Swedish style massage is designed to help stimulate circulation and relax muscles.
Deep Tissue Massage
This is a therapeutic massage with added focus on trigger points and problem areas. Helps loose tight muscles and areas of tension to ease pain and promote healing. This massage is designed to address sports related conditions or problems related to chronic stress or other physical issues.
Spa Innovations Aromatherapy Massage
The ancient art of aromatherapy combines the therapeutic benefits, of touch and smell, individualized just for you. Essential oils of plants and flowers are selected and used during the gentle manipulation of a Swedish massage to reduce stress, and increase energy. Revitalize, relax or rebalance the body and mind. We add a personal touch of warm towels and eye pillows with this one of a kind massage.
Zen Hot Stone Massage
A pampering, soothing hot stone massage guaranteed to make you feel completely relaxed and appreciated. These heated stones loosen tensed muscles allowing for a deep penetrating massage to eliminate stress and provide a complete sense of spiritual well being for the whole body.
Pre-Natal Massage
Specially customized for the mother-to-be this nurturing, soothing massage will relieve muscle aches and fatigue while you relax. (This can only be performed after the first trimester.)
Reflexology
Our therapist will stimulate point on your hands and feet corresponding to areas of the body as dictated by the ancient art of Reflexology. Reflexology helps balance the body and allows healing energy to flow. This service can be added to a full body massage.
Steam Therapy
Guests wishing to add a 20-minute steam therapy shower after the completion of their massage may do so. We ask that this service be scheduled in advance along with your massage service.
Ear Candling
A natural ear healing technique that assists in removal of ear wax and may improve sinus problems, sore throat, ear ache, swimmer's ear, some chronic headaches, allergies, hearing difficulty, tinnitus and other inner ear ailments. Also is used as a "deep cleaning" for the ears. There is no discomfort as old ear wax and toxins are drawn into the candle.
Waxing Services for Women and Men
(0) Comments
Add Comment

Close
Be the first to comment on this listing!
Advertising
Gallery
Click the photos to enlarge
Features
Map