Soda Restauran el Recreo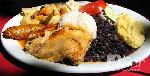 Soda, buffet-style restaurant located in front of the Mas X Menos in Jaco, where you can secure a supply as price and in a saludable.Ustedes are customers and we intend to further strengthen family ties that have united us.
Soda The Recreation
Located in the center of Jaco front ad more x less.
A cozy place, is proud to provide day to day the delicious flavor our guests where you can choose the traditional menu as well as test new proposals.
Our menu includes traditional Costa Rican food, and seafood.
In addition to our food services can also count on us for tea basket, birthday or other events only Consult.
Quality good price we have a large buffet style menu you can enjoy one the best market rates.
In a very pleasant and hygienic with a friendly can enjoy your food with confidence.
TYPICAL FOOD VARIETY
MARRIED
CHICKEN
PIG
RES
CHOP
TYPICAL BREAKFAST
CHICKEN FINGERS
WHOLE FISH
PLATE SPECIAL
SHRIMP
SEAFOOD
NATURAL SODA
DAY PROMOS MARRIED to 2000
SAVE A PLACE TO EAT THE RICH AND ECONOMIC
(0) Comments
Add Comment

Close
Be the first to comment on this listing!
Advertising
Gallery
Click the photos to enlarge
Features
Map