Jaco Beach Condos For Rent Macaws Ocean Club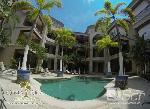 Jaco Beach Condos for Rent, Macaws Ocean Club your best option in Vacation Rentals, Transportation, Tours and Concierge Service are available.
Jaco Beach Condos for Rent, Macaws Ocean Club Jaco, located on the south end of Jaco Beach preferred area for beginner surfers and tranquil travelers. This Jaco Beach Condo for Rent has been nicely decorated fully furnished and equipped to the best experience, Macaws Ocean Club Condo counts with 2 bedrooms and 3 full bath this unit can accommodate up to 3 couples or family of 6, excellent location on the south end of Jaco beach, the property offers private access to the beach and 24 hrs security, enjoy at the pool or relax at your private terrace looking towards the courtyard and pool, walking on our back court yard a nice creek swing by the property attracting beautiful birds and many types of exotic lizards.
The name of the complex was inspired by the various Scarlet Macaws that you spot flying by very offen. Macaws Ocean Club is the right destination for a tranquil and enjoyable Costa Rica Vacation with your family or friends.
(0) Comments
Add Comment

Close
Be the first to comment on this listing!
Advertising
Gallery
Click the photos to enlarge
Features
Features
Car Rental
Surf board rent
Bugies rent
Cable
Kitchen
Hot Water
Internet
Laundry
Parking
Pool
Refrigerator
TV
Fan
Theme
Honeymoon
Adventure
Luxury
Families
Bird Watching
Beach
Ecotourism
Traveler Type
Families
Couple
Group
Number of rooms similar to this one your are adding now
2
Details of prices
Lowest price $ 170
Green Season / Temporada Baja ( May 1 / Nov 20)
Rate / Tarifa: $170 + iv.
High Season / Temporada Alta (Nov 21 / Abril 30)
Rate/ Tarifa: $200 + iv.
Peak Season / Super Alta (Dic 20 / Ene 3)
Rate / Tarifa: $290 + iv.
Map
Book