Tuanis Jaco Beach Apartahotel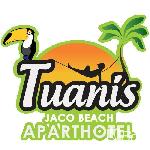 Tuanis provides accommodations for the single traveler, couples, families ,large groups in even bachelor parties, single and double bed hotel style rooms. Also one-bedroom and two-bedroom apartments fully equipped with granite countertop kitchens.
Welcome to Tuanis Aparthotel, a unique family owned and operated residence hotel that caters to all your needs while traveling in Jaco Beach.
Cleansiness and personal service are the top priorities here at Tuanis because we want you coming back to us every time you pass through Costa Rica.
Tuanis is an earth and environmentally friendly hotel. If you want to stay in Jaco Beach at a good price and get the service that you deserve, at the same time slowdown your carbon footprint, then Tuanis Aparthotel is for YOU!!! Tuanis is perfectly located only one hour from San Jose on Calle Girasol just 50 meters from the deep blue Pacific Ocean. If you are a surfer,then Tuanis is for you!!! The waves directly in front of our hotel are great for every caliber of surfer. From the beginner to the expert. World class Playa Hermosa is less than 10 minutes away and Esterillos just 15 minutes. Boca Barranca is 45 minutes from our hotel for all you long boarders.The Los Suenos Resort and Marina is a 10 min. drive from us for your deep-sea sportfishing adventures. The center of town is steps away for all your shopping needs. Many fine restaurants are close by such as "Paparazzi". Paparazzi is a tantalizing little Italian restaurant directly across the street from us that will send your taste buds dancing home. The owners of Paparazzi also grant our clients a 5% discount when you dine there. The Platino gymnasium is a 2 min. walk from Tuanis if staying in shape is part of your daily routine.
Beautiful Manuel Antonio is one hour south from us, a must see, and Puntarenas, the gateway to the Guanacaste and Mal Pais, is just one hour north of Tuanis Aparthotel. If you're one of those people that don't want to bother with a car and all the problems and costs that go along with it, then Tuanis is for you!!! NO CAR NEEDED HERE !!!
Tuanis aparthotel amenities
· *free unlimited calls to USA and Canada
· swimming pool and lounge area
· cable TV
· wireless Internet
· air conditioning in every bedroom
· hot water
· 24 hour security
· private parking
· safe boxes
· hairdryers
· refrigerators
· super friendly service
· just 50 m from the beach
· walking distance to supermarkets.
Restaurants gyms and nightlife What doesTuanis do to be earth friendly?
· *Tuanis uses approximately 80% biodegradable cleaning supplies *Tuanis has a glass paper and plastic recycling system
· Tuanis uses only high-efficient air conditioning systems using only Puron gas that doesn't harm the ozone layer
· *Tuanis has a high efficient Pentair pool pump that only uses 10% of the energy compared to a conventional pool pump
· Tuanis lighting systems are all super low wattage fluorescent lighting *Tuanis hot water is heated by only high efficient German made heating systems
· *Tuanis has a vision to be completely off the grid and one day run our hotel from solar energy
http://www.hoteltuanisjacobeach.com/
(0) Comments
Add Comment

Close
Be the first to comment on this listing!
Advertising
Gallery
Click the photos to enlarge
Features
Features
Cable
Kitchen
Hot Water
Internet
Laundry
Parking
Pool
Refrigerator
Restaurant
TV
Phone
Fan
Mountain View
Theme
Honeymoon
Adventure
Families
Hiking
Beach
Ecotourism
Traveler Type
Families
Couple
Group
Map
Book