The Importance of Knowing about Indigenous Cultures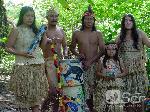 Experts said that it is important to take into account the knowledge that indigenous people have.
The indigenous cultures around the world are usually ignored. The knowledge they have is usually considered rudimental and outdated. However, experts on biodiversity said that it is very important to learn what they know.
In the last several decades, with the increase of technology, and with that, pollution, there have been many negative consequences on our planet. Many species have been dying out while others are becoming endangered species. Not only that, but the climate is changing in radical ways.
According to the aforementioned experts, the knowledge that the indigenous people have can be used in order to face the consequences of these changes. Therefore, it is important for us to forget any preconceived ideas that may exist about this knowledge not being useful, because it is.
Indigenous people are usually careful about the way they treat the environment. Of course, they do use natural resources, but they use them in a controlled way so that they do not run out. They take into account the fact that if they are not careful, they may not have resources to take advantage of in the future.
In Costa Rica this is important information since there are several different indigenous communities, especially in the southern region, were there are communities like the Boruca. There is also plenty of biodiversity, which makes it much more important to take this knowledge into account.
(0) Comments
Add Comment

Close
Be the first to comment on this listing!
Advertising
Gallery
Click the photos to enlarge
Features
Map