New Year for Us and for the Boruca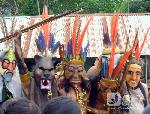 The Borucas celebrate the New Year with the game of the little devils, remembering the time of conquest.
How do you usually celebrate the New Year? For many people, this is a day to get together with the family and spend the time cooking meat and drinking wine. For others, this is a time for partying. Others even get together at their churches to welcome the New Year with prayer and worship.
New Year is an important time because we have the opportunity to look back and remember many things about the ending year. Some of the memories are good. Others are remembered only because we want to learn from them. Then, there are some that we would just like to forget completely. We usually do not try to remember anything from past years; we emphasize on the current year that is ending. However, not all cultures have this same kind of practice.
One culture that differs from ours in this sense is the Boruca culture. They have a game in this time which is called the devil game. In this game, the Borucas use masks, and one of them is a bull, which the others must fight. This is to recall the time of conquest. The bull represents the conquerors, while the others (wearing devil masks) represent the Borucas at that time.
The masks are carved out by the Borucas themselves. There is one artisan who specializes in making them out of wood, and then painting them. They are the most important element of the New Year for these people.
Interestingly, the masks are used only once. When the games are over, they are disposed of and never used again, so the artisan must create new ones each time the game is held. This goes to show that not only the use is important, but also the ritual of making them.
Of course, the masks are not the only important element here. They also use suits, and you cannot forget the chicha, which is a typical alcoholic beverage in Costa Rica.
(0) Comments
Add Comment

Close
Be the first to comment on this listing!
Advertising
Gallery
Click the photos to enlarge
Features
Map