Rainforest Eco Lodge with half mile of beachfront on the Golfo Dulce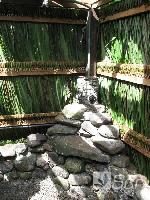 ½ mile of calm beachfront, 450 acres of pristine primary rainforest, 30 acres of tropical gardens and lots of adventure activities make this a unique destination without the crowds or lines. Boat access only, three cabins (maximum capacity of 13 people) and personal service tailored to your needs help make this your own private paradise.
We may be remote but you don't have to suffer. The beach house has solar electric, ceiling fans, full screening and hot water shower. Just steps from the beach and at the center of all activity, the two-story beach house is constructed from beautiful exotic hardwoods and offers unobstructed 360° views of the property and gulf. It has two ½ baths upstairs, an outside hot water shower and will accommodate groups or an extended family of up to 6 people with one king bed and 2 queen beds.
Eighty-eight steps lead up to the Tree House. This is the private and intimate cabin in the canopy overlooking the gulf. It has battery lighting and is equipped with full bath, kitchenette, full screening and beautiful hardwood floors. It will accommodate up to 4 people with one queen bed and a double bunk bed.
Our newest cabin "Mariposa" sleeps 4 people with one queen bed and one bunk bed. Intended for families on a budget, it has shared bathroom facilites, battery lighting and a direct view of the Golfo Dulce and surrounding gardens.
We also have a camping area for budget minded travelers. In a coconut palm shaded and grassy area right on the beach there is a thatch roofed rancho with a sink and a covered picnic table, bbq and beach shower. A short walk away is a full sized tiled bathroom with shower.
All cabin rates include boat transfer from Pto Jimenez or Golfito to Saladero and return, use of kayaks, snorkeling and fishing equipment. (3 day minimum stay).
"Absolutely the very best holiday we have ever had !! Spend your days kayaking in the turquoise Golfo Dulce or the Rio Esquinas mangrove estuary, snorkeling at a local coral reef, birdwatching, fishing, walking the beach, hiking our nature trails or reading a book in a hammock.
All guests receive a complimentary tour of the property with emphasis on the diversity and importance of the rainforests, natural history of the area, introduction to the tropical fruits and plants grown and types of animals and birds native to Piedras Blancas National Park and the Rio Esquinas.
Optional guided tours include:
Boat tours to the mangrove estuary of the Rio Esquinas
Kayak tours to the Rio Esquinas
Horseback riding to a waterfall
Canopy tour at the Osa
Casa Orquedia Botanical Gardens,
Snorkeling at Los Mogos coral reef
Inshore fishing
Offshore fishing with local Captains
Visit local Tico home in the rainforest and tour their property with a native self-taught naturalist
Our Mission Statement
"Our goal is to provide to travelers seeking a unique location and experience, the opportunity to observe wildlife and natural wonders in a pristine and sustainable fashion while enjoying the comfortable and spacious accommodations. 
As responsible stewards we are obliged to take nothing from the ecosystem that surrounds us excepting photographs and memories. "
Harvey and Susan Woodard
(0) Comments
Add Comment

Close
Be the first to comment on this listing!
Advertising
Gallery
Click the photos to enlarge
Features
Features
Bar
Fan
Hot Water
Ocean View
Pets Friendly
Restaurant
Vegetarian-restaurant
Theme
Aquatic
Adventure
All Inclusive
Bird Watching
Beach
Ecotourism
Families
Hiking
Honeymoon
Mountains
Traveler Type
Families
Single
Couple
Group
Budget
Standard
Economic
Luxury
Details of prices
Lowest price $ 85
Prices are per person per day and include boat transportation from and back to either Golfito or Pto Jimenez, 3 meals a day with natural juices, afternoon snack, unlimited use of kayaks, snorkeling and fishing equipment.
Cabin # people Price per person
Dec1-Apr30 May1-Nov30
Beach House 2-6 persons $115 $95
Single $180 $150
Tree House 2-4 persons $95 $80
Single $125 $107
Mariposa 2-4 persons $85 $73
Single $95 $80
Map
Book
Activities in the area
Conservation Areas