BirdWatching Hotel Costa Rica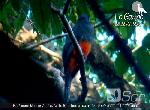 The Gamba Rainforest Lodge is the ideal place to for bird watching, spiritual renewal and ecological health, where you can admire the natural beauty of the Piedras Blancas National Park.
LA GAMBA RAINFOREST LODGE
We are located in the Piedras Blancas National Park in La Gamba of miniature golf to 4.5 km. the main entrance to the Gamba, at Kilometer 37 in Villa Briceño
Within the Piedras Blancas National Park is The Gamba Rainforest Lodge is a rustic mountain lodge, suitable for rest, relaxation and meditation, surrounded by lush tropical forest landscapes sorprendes.Algunas of activities you can perform include: bird´s warching tour or hiking in El Chorro Waterfall.
With its splendid tropical forests, its plethora of indigenous plants and wildlife, There is great diversity of plant, animal and insect species as well as snakes and other reptiles. It is one of
the
best places in Costa Rica for bird watching
as it is the main meeting point for birds of North and South America, it is also home to various species of flora and fauna.
Activities:
-Bird Watching Tour
-El Chorro Waterfall tour
-Place for camps or training.
They should come to this magical place and enjoy the diversity that South Costa Rica offers.
(1) Comments
Add Comment

Close
Falconstare
·
First time
visit the website.
Find best compact bird watching binoculars for sale, best compact spotting scope that let you get closer to nature. Welcome to www.falconstare.com.
Reply
· September 29, 2015
Advertising
Gallery
Click the photos to enlarge
Features
Features
Hot Water
Parking
Refrigerator
Fan
Mountain View
Theme
Honeymoon
Adventure
Families
Hiking
Bird Watching
Beach
Ecotourism
Mountains
All Inclusive
Traveler Type
Families
Couple
Group
Details of prices
per night:
Foreign: $75 breakfast, lunch and dinner include.
Map
Book
Activities in the area
Conservation Areas