Tours Bird Watching in Costa Rica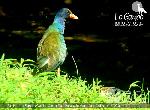 Bird Watching Piedras Blancas National Park Costa Rica Mountain Lodge La Gamba Rainforest Lodge Golfito
Piedras Blancas National Park
It is an important nature reserve and wildlife refuge, located in La Gamba,Golfito,Puntarenas. It is the only remaining rainforest in lowland tropics of the Golfo Dulce. With a wingspan of 14,000 hectares. Moreover, it is one of the places that are still home to the jaguar in Costa Rica. With its splendid tropical forests, its plethora of indigenous plants and wildlife, the Piedras Blancas National Park also protects beaches and bays in the north of the Golfo Dulce.
Its unique climate allows the forest remains green and splendid all year. There is great diversity of plant, animal and insect species as well as snakes and other reptiles. It is one of the best places in Costa Rica for birding as it is the main meeting point for birds of North and South America, it is also home to various species of flora and fauna.
Within the Piedras Blancas National Park is

The Gamba Rainforest Lodge

is a rustic mountain lodge, suitable for rest, relaxation and meditation, surrounded by lush tropical forest landscapes sorprendes.Algunas of activities you can perform include: bird´s warching tour or hiking in El Chorro Waterfall.
They should come to this magical place and enjoy the diversity that South Costa Rica offers.
(0) Comments
Add Comment

Close
Be the first to comment on this listing!
Advertising
Gallery
Click the photos to enlarge
Features
Theme
Adventure
Families
Hiking
Bird Watching
Beach
Aquatic
Ecotourism
Mountains
Tour Duration
1-6 hours
1-3 days
Custom tour
Traveler Type
Families
Couple
Group
Details of prices
National $ 55 per person with breakfast, lunch and dinner meal.
Foreign $ 75 per person with
breakfast, lunch and dinner meal.
Consulting the tours rates.
Special rates for activities groups such as training or camps.
Map
Book
Lodgings in the area
Conservation Areas