Birdwatching in the least visited National Park Piedras Blancas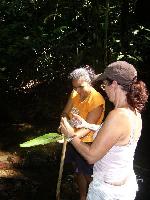 Birdwatching, secondary and primary rainforest exploration with a native naturalist.
Saladero has a combination of species of birds from riverine, mangrove, secondary and primary forest to explore. This extended tour (3 - 4 hours) includes all of these areas. Scarlet Maccaws, toucans, Caracara, Kingfishers, Boat Billed Heron, flycatchers, Red Lored Parrots are a few. One guest counted 70 different species in three days.
Also part of the tour is exploring with a native naturalist the rainforest itself while birdwatching. Catch fresh water shrimp in the river by hand, learn about native medicines derived from the plants, learn about her life, living simply with nature.
Water type shoes needed. Tours offered by Saladero Lodge, Golfo Dulce to guests staying a minimum of 3 days.
(0) Comments
Add Comment

Close
Be the first to comment on this listing!
Advertising
Gallery
Click the photos to enlarge
Features
Theme
Bird Watching
Beach
Ecotourism
Hiking
Traveler Type
Families
Single
Couple
Group
Details of prices
Lowest price $ 35
$35 per person. Two persons at less.
Map
Book