Paso Canoas
Paso Canoas or Panamá Border (Frontera con Panama) is part of the County of Corredores, the political and administrative division of Costa Rica is defined by provinces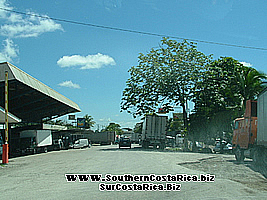 These provinces at the same time are divided into cantons and districts.
In the administrative way, the province of Puntarenas has the following cantons : Puntarenas, Esparza, Buenos Aires, Montes de Oro, Osa, Aguirre, Golfito, Coto Brus, Parrita, Corredores and Garabito.
The canton of Corredores has a surface of 567 square kilometers and it is divided into the following districts Corredor, La Cuesta, Canoas, and Laurel.
Paso Canoas General Information
You will have a good Idea of how far is Paso Canoas from other Cities in Costa Rica if you use our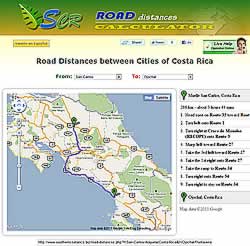 Costa Rica Distance Calculator and Map
Paso Canoas is the South border between Costa Rica and Panama, and because in the side of Panama many articles are much cheaper, many of the Costa Rican people prefer to go to that zone to make their shopping. This aspect has contributed to the fact that Paso Canoas has became an active commercial center where it is sold almost all kind of house supplies or any kind of personal articles that you can imagine.The articles that are sold mostly in the stores at the Panama Border are the following : trousers, jeans, shirts, shoes, perfumes, creams, shampoos, tires, hoops, automobile supplies batteries, watches, purses, fruits cans , candies, deodorants, cds, games, telephones and home supplies equipment (in a lower range)
It is important to mention that the smuggling of articles from Panama toward Costa Rica is illegal, even when it is something very common and that happens very frequently. Even so, it is allowed to buy some articles of personal use and clothing
But when somebody visits the border with Panama, this visit does not have to be limited to Paso Canoas. There are in the places near by, some tourism places that are able to make your options a lot. And because you are already in that place, it is better (that –no-) you can take one or two more days to relax taking a look to some of the best beaches of the zone, such as Playa Pavones or Plaza Zancudo.
Tourism in Paso Canoas
All those who visit the border of Costa Rica with Panama, will be able to find a huge range of lodging services, such as hotels or cabins available for any budget that the visitor can have. There are also many places where you can have your lunch and dinner , specially restaurants and what we call sodas.

If you have your passport, you can visit the city of "David Panamá" that is very near and It is a big city with a huge kind of commerce. Even so, it is necessary to mention that if your purpose is a shopping travel, in David you probably can find much more different kind of articles but the prices can be higher than in the border line of Costa Rica and Panama. But also, a very beautiful place worth to visit is Playa Pavones (Pavones Beach), two hours far away from Paso Canoas. And one of my favorite ones is Playa Zancudo (Zancudo Beach), near Playa Pavones. If you want more information, you can find it in the Beaches Section, in the topic of Playa Pavones or Playa Zancudo, or in the section of Maps, choosing the map of the Beaches of the Southern Zone.

Economy in Paso Canoas
Almost all the people who live in Canoas have an income that is provided by the tourists who come here through the border of Costa Rica with Panama (getting in or coming out) or from those that come to this border to buy some articles for their own.
A very little part of the people that live here in Canoas are dedicated to sow rice, beans, corn or in other cases there are others who live from the income generated by the stock farm activities.
Available Services in Paso Canoas
You can find many services such as the agency of the Banco Nacional, sodas and restaurants, hotels and cabins, stores, schools, high schools, gas supplies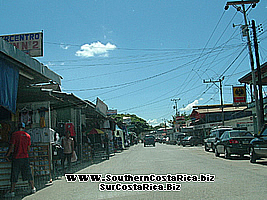 places, supermarkets, drugstores, lawyer services, dentists and doctors.
If you need to take some money from the automatic cashier of the Banco Popular, you must do it in Ciudad Neily which is three minutes away from here.
Climate, Geography and Temperature in Paso Canoas
The climate is wet, with a temperature that goes about the 33 ºC. The topography is flat. Paso Canoas is 128 meters over the sea level.
(0) Comments
Add Comment

Close
Be the first to comment on this listing!
Gallery
Click the photos to enlarge
Features
Map