Restaurante Valchi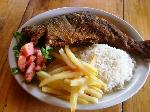 It comes as no lunch and enjoying the fresh mountain air?, In a pleasant climate, warm in nature. Come and live a different experience with your family or friends ...
Enjoy nature, spend a day fishing for trout, healthy lunch, enjoy the sounds of nature ... and healthy eating
In our restaurant you can enjoy a delicious custard and paint with local cheese, a delicious trout lunch and take a freshly brewed cup of coffee ... or you can catch a delicious trout in our lake and prepare it to your liking.
The benefits of eating trout are numerous, rich white meat. Fish, especially fat fish is a good source of Omega-3 fatty acids, have shown their benefits in many ways, especially to stop the aging of organs and tissues.
Walk in our parks, you will see exotic flora and fauna, crystal clear look at our fish, and show your loved ones how to fish lunch.
delicious meals
Enjoy a menu of Creole food.
Specializing in trout.
Come enjoy ....
(0) Comments
Add Comment

Close
Be the first to comment on this listing!
Advertising
Gallery
Click the photos to enlarge
Features
Map
Tours in the area
Lodgins in the area