Bird Watching Tour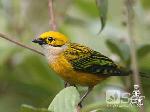 Discover the rich natural ecosystem that is home to the San Gerardo de Dota, the number of different bird species will go out of your routine
In these ecosystems inhabited by many species of flora and fauna, some of which are endemic to the Talamanca area. Of the birds, perhaps the most remarkable for its beauty is the Quetzal, a distinctly Mesoamerican species considered "near threatened" by the World Conservation Union. You can also find hummingbirds, goldfinches and others.
The fauna is diverse, with more than 175 different bird species have been identified. The area is home to Quetzal, who lives here year round, as well as other species such as trogons, hummingbirds, Great partridge, sooty robins, woodpeckers, and many others.
From 6:00 to 8:00 am, the resident guide will lead a walk looking for birds, especially bright Quetzales.Esta is the best way to wake up to nature! During the walk, which could become one of the lucky people to catch this beautiful bird.
Select one of our 3 different nature trails. They vary in length and difficulty. Trail # 1 and # 2 to the east, being # 1 for longer. Route # 2 heads west and ends at the San Gerardo de Dota ..
(0) Comments
Add Comment

Close
Be the first to comment on this listing!
Advertising
Gallery
Click the photos to enlarge
Features
Theme
Adventure
Bird Watching
Families
Hiking
Honeymoon
Mountains
Traveler Type
Families
Single
Couple
Group
Map
Book