Good Day House in Dominical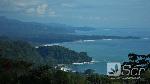 New contemporary house in the stairs, Dominical. It is very spacious and has several levels, you will see spectacular views of the coast and mountains of Dominical. It also includes a large office with private bath, which can serve as a fifth bedroom if desired.
The Morning House is located in a wooded area of ​​one hectare, bordered by a mountain stream on the western side, which is reached by a private path.
This home also has a pool, jacuzzi and a terrace with a rustic ranch Palapa contrasts beautifully with clean, modern lines of the house. The main floor around a small inner courtyard with fountain.
The kitchen is very spacious and bright, and fully equipped, in addition to granite countertops in furniture, gas cooker and a wet bar. Next are the dining room and living room with double height vaulted ceiling to which comes through a hallway with gallery style and a wonderful lobby.
Upstairs, a large hallway separates the master bedroom ostentatious another VIP guest bedroom, along with two rooms, each with balcony, from where panoramic views are breathtaking.
A very spacious garage for 3 cars, laundry room (with washer and dryer large capacity front loading) and a storage area comprising the ground floor.
Toucans, howler and capuchin monkeys are common attractions of this place. Just south is the Parque Nacional Marino Ballena and Corcovado National Park, while Manuel Antonio National Park is just a short distance to the north.
Some of the activities offered in this area include:
· Surfing,
· Sport Fishing
· Diving
· Walking,
· Birding,
· Mountain biking,
· Montas riding,
· Kayaking in rivers and in the sea,
Rafting.
Are also available according to your requirements, spa treatments, cleaning and preparing gourmet meals.
Or air conditioning split units in bedrooms and offices, ceiling fans in the rest of the house (large cross ventilation based on open architecture)
Ø Off-street Parking: Near the house there is parking space for spill, suitable for additional guests / parties
Or bedding: high cotton yarn linen, bath and pool towels provided quality
Or clothes dryer: high capacity front loader energy saving unit
Ø Washing machine: high capacity front loader unit energy savings
Ø Parking for RV / Boat / Trailer: In the space next to the house in the garage floor.
Ø Jacuzzi in the master bedroom balcony, with views of the southern Pacific coast
Satellite or cable Ø: Sky Cable Service
Or private pool
Or stereo system
Kitchen
Ø Refrigerator
Ø Catering available
Full Kitchen
Ø Microwave
Or kitchen utensils
Ø Ice Maker
Ø Outdoor Features
Ø Stove / Gas BBQ Grill
Ø Terrace / Patio
Or balcony
Ø View / Location
Ø Ocean View
Ø Mountain View
Ø Phone
Ø Access for disabled
Ø Children are welcome
Ø Pets
Ø Handicap Accessible (may have limitations)
Ø No smoking
(0) Comments
Add Comment

Close
Be the first to comment on this listing!
Advertising
Gallery
Click the photos to enlarge
Features
Features
Air Conditioned
Cable
Fan
Hot Water
Jacuzzi
Kitchen
Laundry
Mountain View
Ocean View
Parking
Private garden
Pets Friendly
Phone
Pool
Refrigerator
TV
Community Features
Fitness Center
Aesthetic Center
Public lighting
Gas Station
Pool
Spa
Jacuzzi
Sports Complex
Football camp
Bike Paths
Courtyard
Hospital or Clinic
School
Controlled Access
Public Transportation
Grocery store
Stores
Home Features
Balcony
Patio or Deck
kitchen furniture
Microwave
Washer or Dryer
Hardwood Floors
Air Condition
Cable or Satellite TV
Wheelchair Access
Phone
Grates
Wash room
Theme
Aquatic
Adventure
Bird Watching
Whale Watching
Beach
Ecotourism
Families
Golf-Spa
Hiking
Honeymoon
Luxury
Traveler Type
Families
Single
Couple
Group
Number of rooms similar to this one your are adding now
4
Details of prices
Lowest price $ 350
16 November '11-Apr 30 '12
$ 425/night
$ 2800/semana
$ 9900/mes
May 01-November 15, 2011
$ 350/night
$ 2200/semana
$ 7500/mes
16 November '10-Apr 30 '11
$ 400/night
$ 2500/semana
$ 8500/mes
Week end of year:
Dec 23-Jan 09
$ 550/night
$ 3500/week
Easter: 15-24 Apr '11
$ 450/night
$ 3000/week
Rates based on minimum occupancy for three nights, in groups of 8 people. (we charge an extra amount per guest after 8 people)
Other terms may be negotiable.
The payment is porveerá when confirming your reservation (deposit deirecto, paypal or credit card, e-mail request)
Map
Book