Costa Rica Surf Camp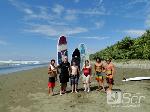 Costa Rica Surf Camp, located in Playa Dominical surf lessons and surf tours for beginners, intermediate and advanced students of all ages. Taught by professionals with extensive experience as a lifeguard ...
Costa Rica Surf Camp has been offering surf vacations since 2003
Costa Rica Surf Camp and Surf Tours. We are located in beautiful Playa Dominical, one of the greenest areas in the South Pacific side of Costa Rica. Playa Dominical is a small town famous for big waves, beaches, green mountains and friendly people.
Surf Tours and has extensive experience providing the best surf holiday for guests of all ages and abilities to surf.
We offer the best service to our customers. We have a variety of packages to suit your needs and desires, including travel options for transportation, accommodation and adventure. In addition to all of our instructors are former lifeguard Playa Dominical!
Others tours you can take.
· Kayak
· Yoga
· Massage
· Waterfalls
· Horse Riding
· Canopy Tours
(0) Comments
Add Comment

Close
Be the first to comment on this listing!
Advertising
Gallery
Click the photos to enlarge
Features
Theme
Honeymoon
Adventure
Families
Beach
Aquatic
Tour Duration
1-6 hours
One day
1-3 days
One week
Traveler Type
Families
Couple
Group
Map
Book