Cafe Delicias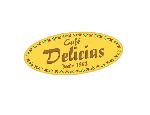 Delicias Cafe Dominical Come enjoy the comfort, friendly service at a fair price, engaged since 1992 with our customers to offer the best coffee with the friendliest service and fair price.
In the Café Delicias you can sample a variety of flavors, desserts and others, will have the opportunity to enjoy our cakes taste sweet and salty. And for those who think about their health, we have vegetarian menu.
Our Hours Mon - Sat: 7:00 to 19:00
Closed-media marts
specialties
1. breakfast
2. fast food
3. lunch
4. Vegetarian
5. cafe
6. snacks
7. beverages
8. services
No reservation required / Suitable for groups / kid.
· To carry
· cast
· Catering
· Waiter service
Come and be part of the experience offered in a friendly and relaxed Its strategic location
Delights Café open from 7:00 am for breakfast, to accompany their coffee can choose pancakes, eggs, hash browns, the traditional (Gallo pinto) sells copies of the English language newspaper, "The Tico Times", which can be enjoy with a treat.
Payment:
Accept Credit Cards
U.S. Dollar, Costa Rican Colon
Delicias is located in Dominical, Costa Rica second building from the main entrance
(0) Comments
Add Comment

Close
Be the first to comment on this listing!
Advertising
Gallery
Click the photos to enlarge
Features
Map
Tours in the area
Lodgins in the area