Tortilla Flats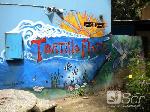 Tortilla Flats has it all! Whether your just looking for beach front accommodations, a beach front restaurant with amazing food, a lively beach front bar with ocean breezes or a place to stay with waves out the front door and a skate ramp out the back, Tortilla Flats is your place!
The hotel is perfect for surfers, budget travelers or others looking for clean, comfortable and safe accommodations right on the beach. The one room cabins feature private bathrooms, nice beds and porches with hammocks to relax in. AC is available upon request.
The beach front restaurant / bar was just renovated and is "The favorite spot" for surfers and beach goers to grab a bite to eat and a cold refreshing beverage. The menu has a wide variety of dishes including healthy sandwiches, fish tacos, fresh tuna, and local dishes called casados. Casados usually consist of a meat (either fish, chicken, pork or beef) a salad, vegetable, rice and beans. If you're hungry, and a main dish won't satisfy you, try the Calamari appetizer. It is out of this world good! The comfortable bar seems to attract patrons from early morning until closing time. You will often see the same people there for breakfast, lunch, dinner and then drinks afterwards.
SInce the renovationTortilla Flats has become a hot spot for live music and Dj's. The expanded dining rooms easily convert into a stage and dance floor so people can boogie the night away. They also built the only skate ramp in the Costa Ballena Region. Skaters and surfer come from all over the world skate the half pipe and to brave one of the most powerful waves in Costa Rica.
We look forward to seeing you at Tortilla Flats!
Please use the green "Make an Inquiry"or Reserve a Table button to get in touch with us. We check it often and will get back to you soon.
Opening Times:
8:00am - 12:00pm We serve breakfast, lunch and dinner!
(0) Comments
Add Comment

Close
Be the first to comment on this listing!
Advertising
Gallery
Click the photos to enlarge
Features
Features
Hot Water
Ocean View
Parking
Restaurant
Surf board rent
Vegetarian-restaurant
Theme
Adventure
Beach
Families
Honeymoon
Traveler Type
Families
Single
Couple
Group
Map
Book