Hotel Villa Ambiente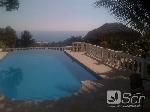 Villa Ambiente is a wonderful hotel in the Dominical Mountains
Villa Ambiente, as its name implies, has a special atmosphere of luxury and beautiful decorations.
Its owners, two Swiss, have made this beautiful two-story hotel with panoramic ocean views in Dominicalito.
Each room has its own bathroom, air conditioning, safe, cable TV and plenty of comfort and safety.
The rooms are equipped with privacy terrace also provides a common area where you can enjoy delicious food, a roof terrace and infinity pool with view, next to the hut.
His visit to Sunday or Dominicalito not be complete without staying at Villa Ambiente!
(0) Comments
Add Comment

Close
Be the first to comment on this listing!
Advertising
Gallery
Click the photos to enlarge
Features
Features
Air Conditioned
Bar
Cable
Kitchen
Hot Water
Internet Access
Private garden
Laundry
Parking
Pool
Refrigerator
Restaurante
TV
Phone
Fan
Mountain View
Ocean View
Theme
Honeymoon
Adventure
Luxury
Hiking
Beach
Ecotourism
Traveler Type
Families
Single
Couple
Group
Details of prices
Lowest price $ 104
High Season 2010

Low Season 2010

Peak Season 2009/2010

Minimum 3 nights

1st Floor

Room 1

$139.00
$104.00
$185.00

Room 2

$139.00
$104.00
$185.00

Room 4

$139.00
$104.00
$185.00

2nd Floor

Room 5

$151.00
$116.00
$197.00

Room 6

$151.00
$116.00
$197.00

Room 7

$151.00
$116.00
$197.00

Room 8

$151.00
$116.00
$197.00

Suite

$211.00
$176.00
$257.00
Map
Book