Hotel Arena y Sol, Costa Ballena, Dominical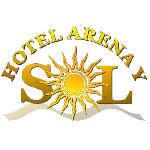 We are located in one of the main and most concurred beach destinations of the central-end / beginning-south area of the pacific coastline of costa rica
Playa Dominical is an area famous for surfing which is very favorable environment and conditions, so it is very common to see groups of travelers who enjoy the sport and also families who enjoy outdoor activities, this being the why we always have a group, doubles or individual rates are very attractive, starting as low as $ 25 per person.
OUR ROOMS
For the convenience of our visitors, we currently offer cabins with private bath, cable TV, A / C fan, telephone, bunk beds and twin size beds, with the most affordable prices in the area.
services
Internet
International Calling
restaurant
laundry
pool
Super mini
activities
Waterfalls Nauyaca
Tour Cost: $ 40 / per person more
Hiking in Corcovado National Park
Tour Cost: $ 95
Snorkeling in Caño Island Biological Reserve
Tour Cost: $ 95
Snorkel and kayak in the Ballena Marine National Park
Tour Cost: $ 55
Diving at Caño Island Biological Reserve ..
Tour Cost: $ 130 More information
Whale and Dolphin Watching
Tour Cost: $ 65
Kayaking Waves and Caves Park Marino Ballena
Tour Cost: $ 55
Corcavado and Cano Island Sirena Biological Station
Tour Cost: $ 360
(0) Comments
Add Comment

Close
Be the first to comment on this listing!
Advertising
Gallery
Click the photos to enlarge
Features
Features
Pets Friendly
Air Conditioned
Car Rental
Surf board rent
Bugies rent
Bar
Cable
Kitchen
Internet
Private garden
Laundry
Parking
Pool
Refrigerator
Restaurant
Vegetarian-restaurant
TV
Fan
Theme
Adventure
Families
Hiking
Bird Watching
Beach
Ecotourism
Traveler Type
Families
Single
Couple
Group
Details of prices
Lowest price $ 30
Rates 2012 - 2013 (Tax & Breakfast Included)
Come and enjoy the best service along with the best sets of rates arround! rooms for groups or entire families, single occupancy, double, triple or quadruple.

Standard rooms

Persons / Detail

April - May
Sept - Nov

June - August
Dic - March 2013

1 Person

$35.00 /nigth

$35.00 /nigth

2 Persons

$50.00 /nigth

$50.00 /nigth

3 Persons

$75.00 /nigth

$75.00 /nigth

4 Persons

$100.00 /nigth

$100.00 /nigth

5 Persons

$125.00 /nigth

$125.00 /nigth

6 Persons

$150.00 /nigth

$150.00 /nigth

7 persons $175.00 /night
Map
Book