Hyundai Tucson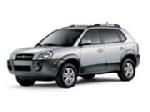 Solid Rent a Car offers (Hyandai Tucson)
For more than 12 years Solid Car Rental operates in Costa Rica, we have proved to be a serious and responsible Rent a Car company. We are fully identified with all the Rental Car needs of the travelers in Costa Rica, that is why our slogan is:
"WE KNOW THE MEANING OF SERVICE".
As part of our grow and personal service we notice the new oppening office in Puerto Jimenez in front of the Air Strip, and also we notice you the new oppenig of our office in Golfito at the Sierra Hotel.This magical zone invites every nature lover to discover the wilderness flora and fauna from Corcovado national Park, surrounding beaches, beautiful views and more wonders that charming every tourist at the moment they have contact with the zone.A solid commitment with our clients.The Hyundai Tucson is a great car not only for its design and style but also for comfort and speed. No matter weather you're always safe from the cold, heat and any discomfort in this beautiful car.
(0) Comments
Add Comment

Close
Be the first to comment on this listing!
Advertising
Gallery
Click the photos to enlarge
Features
Details of prices
Lowest price $ 95
1 to 2 days: $ 105
3 to 6 days: $95
Week: $ 665

Map