Centro Médico Saludarte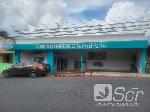 La Clínica Saludarte presta servicio a toda el Area Metropolitana, esta liderada por la Dra. Gloria Díaz Fonseca, que ofrece sus servicios como
Business Address:
Ruta 306/ Granadilla - San Rafael, Granadilla Norte
Curridabat, San Jose, 11801
Owner Name:
Dra. Gloria Díaz Fonseca
Phone:
50622730910
Business E-mail:
Keywords:
Médico, Dictamen Médico para Licencia, Liposucción, Botox, Estética, Adelgazar, minilipo, Medicina, Doctor,
Description:
La Clínica Saludarte presta servicio a toda el Area Metropolitana, esta liderada por la Dra. Gloria Díaz Fonseca, que ofrece sus servicios como Médico General. Brinda servicios personalizados, empezando con su Dictamen Médico para Licencia, Control de Peso, Limpieza Facial, Vitamina C Megadosis, Aplicación de Toxina Botulinica, Rellenos con Acido Hialurónico, Plasma Rico en Plaquetas, Programas de Pérdida de Peso, Coaching, masajes, Podología, Depilación, Papanicolau, Lavado de Oídos, Eliminación de Lunares y Verrugas. Psicología, Odontología. Bichectomía, Lipo de Papada, alquiler de Sala de Reuniones, etc.
Hours
Lunes
08:00–17:00
Martes
08:00–17:00
Miércoles
08:00–17:00
Jueves
08:00–17:00
Viernes
08:00–17:00
Sábado
08:00–14:00
Domingo
Cerrada
Social Links
https://www.instagram.com/clinicasaludarte
https://es-la.facebook.com/centro.saludarte.7
payment method:
Efectivo Tarjeta Depósito
Category
Centro Médico
Spa Médico
Clínica
Cirujano Plástico
Spa de Piedras Calientes
Tienda de Salud y Belleza
Clinica de Cirugía Plástica
Clinica de Salud de la Mujer
(0) Comments
Add Comment

Close
Be the first to comment on this listing!
Advertising
Gallery
Click the photos to enlarge
Features
Map
Book