Mirador de Quetzales Lodge, finca Eddy Serrano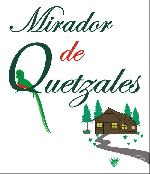 Mirador de Quetzales Lodge, finca Eddy Serrano estate is one of the best places in Costa Rica for observing the magnificent Quetzal one the most beautiful birds of the world We bring to the visitor a real Costa Rican deal in a very friendly atmosphere, natural and safe
THE BEST LOCATION AND EASY ACCESS
OVER THE HIGHWAY
Mirador de Quetzales is a Ecolodge located in the mountains of Cerro de la Muerte only 1 hour-drive from San Jose, just taking Route 2 South American road km 70.
Established through the efforts of "Don" Eddy and "Doña" Leonor Serrano Obando more than 23 years ago.
Our services:
- Best location !!! Over the main road, we are less than 1 km from the highway
-15 cabins with occupancy from 1 to 5 persons with private bathroom, hot water, and electric heater.
-Restaurant with beautiful view and accommodates up to 50 people.

-Wide and secure parking lot for car and buses.

-Guided tour to the observation of Quetzales.

-Tour expecializado on the observation of a variety of birds in the area.

-Tour the Oakwood 4km trail marked.

-Trout Fishing and preparation.

-Per kilo laundry service ($4 / kilo)

-Souvenir.
(0) Comments
Add Comment

Close
Be the first to comment on this listing!
Advertising
Gallery
Click the photos to enlarge
Features
Features
Pets Friendly
Hot Water
Internet
Private garden
Laundry
Parking
Restaurant
Mountain View
Other
Theme
Honeymoon
Adventure
Families
Hiking
Bird Watching
Ecotourism
Mountains
All Inclusive
Traveler Type
Families
Couple
Group
Details of prices
Lowest price $ 70
SPECIAL OFFER OCTUBER - NOVEMBER 2015
Lodging, diner, breakfast, autoguide tour and taxes
(US$55.00) CASH
PER PERSON / PER NIGHT
LOCALS AND RESIDENTS WITH SPECIAL EXTRA DISCOUNT, please call.
Valid offer ratos until Nov 30th, 2015, under availability
Confirmation requirement: 50% of the total in advance by banking deposit/transfer or applying Credit Card signature on file form (banking charges not included in the offer)
Banking info:
For international transfers:
SWIFT: BCNJCRSJ
Account: 921530402 - US$
Company name: Don Eddy S.A. (Mirador de Quetzales Lodge) 3-101-228610
from transfer of other local banks: Cuenta cliente: 10200092190024
The 50% balance will be billed on check in
Map
Book