Guided tour for Quetzals oservacion.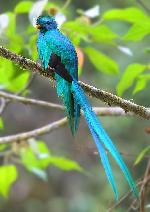 As its name says it is watching the beautiful Quetzal, this has to go into a forest of trees aguacatillo (Food) of Quetzal. Accompanied by a local guide and a duration of 1 ½ to 2 hours
Some recommendations for the tour are as follows.

Harnessing the early hours of the morning, an hour walk empesar ideally at 6am.

Use hiking shoes nonslip soles.

Bring warm clothes as it is a cold zone and coat or umbrella.

Bring your camera or binoculars.
(0) Comments
Add Comment

Close
Be the first to comment on this listing!
Advertising
Gallery
Click the photos to enlarge
Features
Theme
Adventure
Families
Hiking
Bird Watching
Ecotourism
Mountains
Other
Traveler Type
Families
Yesngle
Couple
Group
Details of prices
Lowest price $ 20
Cost $20 per person.
Includes servicesof lcal gide.
Validity rate until october 2015.
Map
Book