Brunca Tourist Consortium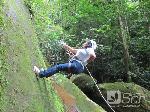 The consortium's businesses are located in the Brunca region of Cota Rica in the Southern Zone of the country, comprising the counties of Perez Zeledon, Buenos Aires, Osa and Coto Brus.
These businesses are working collaboratively to promote their products and services and become known in the tourism industry for offering an attractive range of eco-friendly, mountain, cultural and adventure tourism. Working within the concepts of eco-environmental quality and sustainable tourism, they offer authentic Costa Rica experiences.

With our slogan "Brunca in Your Hands" we want to make our scenic beauty and human warmth available to all our visitors.
Tour and lodgin in Las Cruces Biological y Wilson Botnaical garden in Coto Brus
Lodgin in Hotel Emanuel y Posada Rural Amigos del Ambiente , also orquids and native trees tours in Agua Buena Coto Brus
Arqueological tour, Terapia Reiki, Spa, in Hotel Rancho La Botija in Perez Zeledón
Tour Rappel , Tour al Cerro Ena with Agro San Miguel Adventures in Perez Zeledón
Tour at Valle del Silencio, lodgin and rural turism with Biolley´s Organized Women Asociation
Cultural Route with Asociación Cultural Bribripa Kaneblo, Bribri indigenous territory in Buenos Aires
Cultural Route with Boruca indigenous territory with Eco Aventuras Kuasran in Buenos Aires
(0) Comments
Add Comment

Close
Be the first to comment on this listing!
Advertising
Gallery
Click the photos to enlarge
Features
Map
Book