DECORACION Y MANTELERIA PARA SUS EVENTOS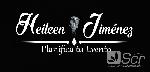 Todo en Decoración, Mantelería y Telares Animación de Eventos Maestra de ceremonias Alquiler de Mobiliario Decoraciones Tematicas Nos ajustamos a cualquier presupuesto 10 años de experiencia
Mi nombre es Heileen Jiménez cuento con 10 años de experiencia en la planificación de eventos.
Me especializo en los servicios de Planificación, Animación, Decoración y ambientación en conjunto con todo un personal especializado.
Contamos con proveedores para los demás servicios, seleccionados por su responsabiidad, compromiso y calidad.
Debido a lo ajetreada que es la vida de la mayoría les ofrezco un servicio altamente personalizado, atendiéndole en horarios flexibles (de noche y fines de semana). desplazándome al lugar de su conveniencia, para ahorrarle tiempo, dinero y esfuerzos innecesarios.
Su Evento será para nosotros tan importante como lo es para usted. Permítanos poder asesorarle, y llevar a cabo este proyecto al lado suyo.
(0) Comments
Add Comment

Close
Be the first to comment on this listing!
Advertising
Gallery
Click the photos to enlarge
Features
Map
Activities in the area
Lodgins in the area