The Nigh Tour in Bahia Drake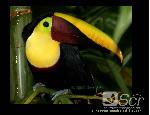 Birds, insects, amphibians, reptiles, mammals are among the species that you found us on tours to fascinating and mysterious world of the jungle at night. A whole field of research that might provide a wealth of knowledge ...
Dare and experience an adventure that will impress both know and discover a lot of night creatures that provide a new picture of what is wildlife.
The National Biodiversity Institute (INBio), which was created to catalog the biodiversity of Costa Rica, on average identified a new species every three days, most of which are insects
Beetles are the largest group of insects, representing one-fifth of all living organisms and a quarter of all animals.
It has been estimated that these giant insects are capable of lifting up to 850 times its own weight!
Some tropical mantis are known to eat frogs, lizards, mice, and even birds and insects.
The sudden and powerful strike from the mantis has only 50 to 70 milliseconds to complete.
Some 400 years ago, while watching a praying mantis send a cicada, Wang Lang famous martial artist was inspired to create a new form of kung fu. The mantis style - with refined hand and arm positions, strikes and game - looks like many of the positions and movements of a praying mantis hunting.
In the rainforests of Costa Rica, some snakes have become highly specialized predators. Incredibly, there are snakes that feed on snails and slugs only, while others specialize in scorpions!
Chunk-headed snakes are fully adapted to life in trees. They have a prehensile tail and an uncanny ability to cast their eyes downward. These unique adaptations help in finding snake sleeping lizards, their main prey.
Costa Rica has over 1,000 species of butterflies. The spectacular butterfly owl, with its 13 inch wingspan, is one of the largest in the world. They live in lowland forests and are mainly active at dusk and dawn.
Anteaters feed on termites, ants, bees, and sometimes, even.
Adult tamanduas estimated 50-80 visit colonies of termites and ants every day, which consume about 9,000 insects.
(0) Comments
Add Comment

Close
Be the first to comment on this listing!
Advertising
Gallery
Click the photos to enlarge
Features
Theme
Adventure
Ecotourism
Families
Hiking
Honeymoon
Mountains
Traveler Type
Families
Single
Couple
Group
Map
Book