Rancho Corcovado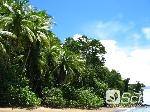 Rancho Corcovado is an ideal place to vacations and relax. People who enjoy nature adventure and want to be part of conservation, have to come to Rancho Corcovado and we will provide what you want!
Rancho Corcovado is a company dedicated to providing housing, food, transport and tours in the Osa Peninsula, with emphasis on quality coupled with personalized service in the family, protection and conservation of the environment.
We are one of the first hotels installed in Osa Peninsula Drake Bay, The family Gonzalez Serrano style with personalized service and pioneers in the area.
The members of this family are responsible for the administrative operation and operate the hotel.
Our pure and natural environment hosted by a Costa Rican family in the region, they are careful to show visitors the beauty of plants, animals and marine life of the place.
t is located on the Osa Peninsula Drake Bay in the province of Puntarenas, Costa Rica in a private nature reserve in Drake Bay meets the wild Pacific Ocean, a gaming destination each created by nature.
ACTIVITIES OFFERED:
• Caño Island
• Corcovado National Park
• Horseback Riding
• Snorkeling
• Diving
• Mangroves
• Dolphin and Whale
(0) Comments
Add Comment

Close
Be the first to comment on this listing!
Advertising
Gallery
Click the photos to enlarge
Features
Features
Fan
Hot Water
Mountain View
Ocean View
Theme
Aquatic
Adventure
All Inclusive
Bird Watching
Beach
Ecotourism
Families
Hiking
Honeymoon
Mountains
Traveler Type
Families
Single
Couple
Group
Details of prices
Lowest price $ 80

We have 12 rooms, 10 wiht fam and 2 wiht A/C
Our Rates are per person, per night and include taxes and 3 meals.
Rate: $80
PACKAGE No: 1
PACKAGE: 4 days / 3 nights
Rates per person (U.S. Dollars)
INCLUDES:
Transfer in from Sierpe to Rancho Corcovado (boat transfer)
Tour to Corcovado National Park (San Pedrillo Station): naturalist tour guide, entrance fee.
Tour to Caño Island: tour guide, entrance fee and snorkeling equipment.
Transfer out from Rancho Corcovado to Sierpe or Palmar Sur.
3 meals per day
Taxes
Rate : $455.00
PACKAGE No: 2
PACKAGE: 5 days / 4 nights
Rates per person (U.S. Dollars)
INCLUDES:
Transfer from Drake Bay Airstrip to Rancho Corcovado.
Horseback riding tour.
Tour to Caño Island: tour guide, entrance fee and snorkeling equipment.
Tour to Corcovado National Park (Sirena Station): naturalist tour guide, entrance fee.
Transfer out from Rancho Corcovado to Drake Bay Airstrip
3 meals per day
Taxes
Rates: $ 514.00
PACKAGE No: 3
PACKAGE: 4 days / 3 nights
Rates per person (U.S. Dollars)
INCLUDES:
Transfer in from Palmar Sur or Sierpe to Rancho Corcovado.
Tour to Corcovado National Park (Sirena Station): naturalist tour guide, entrance fee.
Dolphin, whales and turtle watching tour, includes snorkeling gear.
Transfer out from Rancho Corcovado to Drake Bay Airstrip.
3 meals per day
Taxes
Rate: $470
PACKAGE No: 4
PACKAGE: 3 days / 2 nights
Rates per person (U.S. Dollars)
INCLUDES:
Transfer in from Palmar to Rancho Corcovado (taxi and boat transfer)
Tour to Corcovado National Park (San Pedrillo Station): naturalist tour guide, entrance fee.
Tour to Caño Island: tour guide, entrance fee and snorkeling equipment.
Transfer out from Rancho Corcovado to Sierpe or Palmar Sur.
3 meals per day
Taxes
Rate: $353 .00
Map
Book