Casa Corcovado Jungle Lodge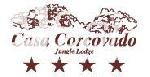 This idyllic Hotel has been carefully designed and built by an American naturalist with over twenty five years of local experience in order to provide accommodation to the point respecting environmental protection and harmony with the landscape.
Casa Corcovado Jungle Lodge, an ideal basis for a rich experience in the rainforest.Casa Corcovado Lodge.Hidden among trees, refreshed by the warm breeze of the Pacific Ocean and bordering the Corcovado National Park is this 170 acre private reserve.No road leads to Casa Corcovado Jungle Lodge, is accessible only by boat.
The adventure begins two hours prior to arrival, when the boat leaves the reception center "La Hacienda" in Sierpe. From there awaits an attractive route across the river and then runs along the Pacific coast up to the shelter.The preservation of the rainforest is essential because half of the tropical forest has been destroyed.
Each year, deforestation is an area of ​​50 acres, an area the size of New York.The rain forest where they found 25% of our medicines and many others waiting to be discovered, will disappear.The first global studies on tropical forest canopies were conducted in Corcovado.Given the astonishing variety of unknown life forms were discovered in this "hidden world", the estimate of life on this planet should have been increased from 20 parks.
ACCOMMODATION:
Your accommodation on this "Lost World" is an artfully constructed bungalow to provide a simple comfort, bed canopies, hanging ceiling fans, tile floors, living room, mini-bar, safe, hammock and ample closets. Each bungalow has a very spacious bathroom, hot water and first quality.As you approach your room, your sight will enjoy watching the beautiful stained glass windows and colorful doors and windows hand-painted by Costa Rican artists•
HONEYMOON SUITE4 honeymoon suites isolated and hidden in the rainforest, as queen beds covered with a canopy and mosquito with a fan over the bed, banks with pillows, private bath with hot water, mini bar, hammocks and a large closet.•
BUNGALOW6 deluxe bungalows tucked in his own garden as queen beds and individually covered with mosquito canopy, tables, fans, large closets, mini bar, private bathroom with hot water, separate shower.• JUNIOR SUITE4 junior suites with covered porch perfect for relaxing after a day of adventure, living room, sofa bed, mini bar, private bathroom, fan and hammocks. Each bungalow has 2 suites that connect making them perfect for families or friends
.EXCURSIONS
1. Corcovado Nat Park Hike
2. Bird Watching
3. Trip to Playa San Josecito
4. Horseback
5. Tour to Caño Island
6. Diving
7. Fishing
8. Kayaking
9. Encounters with Whales and Dolphins
10. Mangrove Tour
SERVICES
• Bar "El Bosque"
• Corcovado Hall and Game Room
• Pool "El Solar"
• Pool "The Forest
"• Restaurant "The Stained Glass"
• Margarita Bar• Gift Shop and Office
• Laundry & Mini Bar
Tropical BeachAlmost any trip to Costa Rica, you will see mountains, beaches, and temperate Central Valley. Be prepared for temperatures between 10 º C (50 ° F) at 33 ° C (90 º F) on average.The dramatic and numerous changes in temperature, and the possibility of rain, means you must use the appropriate clothing. Be prepared to dress in layers and try to bring light clothing and dry easily. We hope the following checklist will help you pack your luggage.If possible, try to make everything fit in a handbag and a suitcase to ship
.LIST OF BAGGAGE
1. Swimwear.
2. Sunscreen
.3. Good walking shoes or hiking boots
.4. Dry shoes for the night
.5. Flip flops or river sandals
.6. Underwear and socks.
7. At least two pairs of long pants for days in the field, and one of shorts for the night. Some people
8. They like to walk in shorts, but the best are long, due to insects.
9. Skirts or dresses, women may prefer to wear pants for the night.
10. T-shirt.
11. Light coat or poncho.
12. Sun hat.
13. Sweatshirt or jacket.
14. Lightweight jacket or windbreaker.
Finally, do not forget personal medications, a pair of glasses or contact lenses additional insect repellent, and earplugs if you have very light sleep, and a belt for the money.
(0) Comments
Add Comment

Close
Be the first to comment on this listing!
Advertising
Gallery
Click the photos to enlarge
Features
Features
Bar
Mountain View
Ocean View
Pool
Restaurant
Theme
Adventure
Bird Watching
Beach
Ecotourism
Families
Hiking
Honeymoon
Mountains
Traveler Type
Families
Single
Couple
Group
Map
Book