Tour a Corcovado National Park, Sirena Ranger Station, Puntarenas, Costa Rica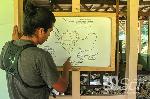 One night at Sirena Ranger Station, Corcovado National Park.
Osa Great Adventure
We are company that offers the best tour options for our customers where they can see the beauty of the South Pacific Costa Rica
It is also important to mention we maintain an awareness and practices as green as possible.
We are located in the city Agujitas Drake. Witch is our starting point to visit the Corcovado National Park Sirena or San Pedrillo, ranger station, Caño Island, Sierpe Mangroves and more.
Tour: Sirena Ranger Station, Corcovado National Park.
This tour begins at 6:00 am from the beach. It takes 1 hour to get to sirena beach. And from the beach to the station it is 30 minutes on foot. Once there the tent is set and every body is ready, the hiking starts. Lunch time is for 1 hour to two hours depending on the custumers desires. After lunch time the other hiking starts until 6 p.m the latest. Dinner time is at 6:30. The next day the early hiking begings at 4:00 am, and breakfast arrives to beach at 7:30 am. After that a little hiking and get back to the station to pack everything and walk towards the place where will be taking the boat back to Drake Bay. Then, lunch time is at 12:30 at sirena beach. And the boat departs at 1:00 pm back to drake bay.
Enter your information in the right form available, it is important for us.
Contact Us
(0) Comments
Add Comment

Close
Be the first to comment on this listing!
Advertising
Gallery
Click the photos to enlarge
Features
Theme
Honeymoon
Adventure
Families
Hiking
Bird Watching
Beach
Aquatic
Ecotourism
Mountains
Traveler Type
Families
Couple
Group
Map
Book