Tesoro Verde Ecoldge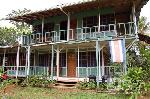 In Green Treasury try to meet their needs. We offer different ways to stay with us according to your tastes.
Treasury Green Hosting Ecodge Rural Community.
ACCOMMODATION
LODGE - If you would like to have all predisposed to participate fully in their holidays, this might be the best choice for you!
All Inclusive offer different packages depending on what you like to participate adventures.
· All in price: $ 45
· All packages include:
· Your stay at Tesoro Verde
· 3 meals a day
· Free use of Green Forest Reserve Private Treasury
· Fee: $ 45
HOSTEL - If you just want a room and cook their own meals and then check out the deals and explore during your stay here with us! Fee: $ 10 - $ 15
HOSTEL Tesoro Verde is available for travelers Backpackers, Budget Group and who want to stay longer and likes to cook their own meals or get elsewhere.
HOSTEL Rate: $ 10 - $ 15
The option Hostel includes:
Room (shared if we are full)
Free use of the Green Forest Reserve Private Treasury
Use of kitchen ($ 5 extra for 3 nights, to help with the cost of gas)
Of course that will help you organize all tours and can also prepare meals if you ask a day in advance.
CAMPING - Spend your evenings in the garden and cooking meals in the kitchen! Price: 5 €
For all stargazers and outdoor enthusiasts and happy campers. Pitch your tent in the garden and enjoy its beauty!
Camping Fee: $ 5
Camping includes:
Choose your location in the garden
Using the toilet / shower (hot water available)
Free use of the Green Forest Reserve Private Treasury
Use of kitchen ($ 5 extra for 3 nights, help with the cost of gas)
We can help arrange tours and of course we prepare meals a day in advance! If you need to get the laundry, we can help with that too. NOTE: As we currently do not offer platforms, so make sure your tent is waterproof.
We offer:
3 bedrooms with a queen size bed and a single bed (for 3)
1 bedroom with a queen size bed and a bunk bed (sleeps 4)
2 bedrooms with a single bed and a bunk bed (for 3)
Spacious dining area, which is open all night
Shared showers (hot water) and toilets
Garden sun, watch the hummingbirds or pitch your tent
12 acres of private reserve of primary forest, free to explore and fully equipped with 4 tracks
Private Laundry (in the city)
"Green Treasury can hold a maximum of 19 people."
Please let us now if you are allergic to certain foods or special diet. Gladly I can cook vegetarian / vegan for you.
We recycle our waste and disposed of properly
We do not use chemicals that harm the environment
All black water passes a green filter before entering a septic tank
Maintain the energy and water consumption to a minimum and make our visitors aware of this
Protect a 12-hectare forest reserve primary
Every year we organize local projects to contribute to the development of our city in a sustainable manner. See here for current and past projects. If you plan to stay in Green Treasury note that we are living in a remote area and waste disposal is a major problem in rural communities in Costa Rica. So please do not bring things here that it plans to leave behind especially batteries because they can only be collected and recycled in San Jose. Bring rechargeable batteries instead.
(0) Comments
Add Comment

Close
Be the first to comment on this listing!
Advertising
Gallery
Click the photos to enlarge
Features
Features
Hot Water
Laundry
Mountain View
Ocean View
Restaurant
Theme
Aquatic
Adventure
Bird Watching
Whale Watching
Beach
Ecotourism
Families
Hiking
Honeymoon
Traveler Type
Families
Single
Couple
Group
Map
Book