Cabins In Osa. Drake Bay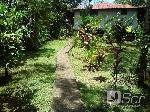 Cabinas Jade Mar is located on the Osa Peninsula Drake Bay Costa Rica. The hotel offers rooms and cottages with sea views at very affordable prices for you and your family or friends for a memorable holiday.
You can enjoy our restaurant and bar. It offers delicious food and cocktails very rich, our hostel offers hiking in Corcovado National Park, where you can enjoy the forest and many animals, but if you like the beach, visit Cano Island, where you can enjoy watching dolphins and whales and then have a beautiful day by diving and swimming at the beach!
rooms
· cabin
· Family cabin
· Room A / C
· Rooms shared bathroom
Our hotel offers:
· Laundry
· Internet access
· Free WIFI
· Pay with Visa or Mastercard.
· Tour.
· Parking / parking
Tours
Some of the trips you can take Jademar Cabins!
· Caño Island
· Corcovado National Park
· San Pedrillo
· Siren
· diving
· San Jocesito
· Mangroves
· Night tour
· Canopy Tour
· See whales and dolphins
(0) Comments
Add Comment

Close
Be the first to comment on this listing!
Advertising
Gallery
Click the photos to enlarge
Features
Features
Bar
Kitchen
Hot Water
Laundry
Parking
Refrigerator
Restaurant
Vegetarian-restaurant
Phone
Fan
Mountain View
Ocean View
Theme
Honeymoon
Adventure
Families
Hiking
Beach
Aquatic
Traveler Type
Families
Couple
Group
Map
Book