Birding Tour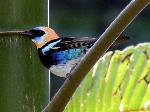 Discover the diversity of bird species in the Osa Peninsula where about 800 different houses. Join us and enjoy..
More than 800 species of birds have been identified in Costa Rica. Discover the beauty and diversity of birds in the Osa Peninsula. Common bird species include macaws, toucans, Chestnut Swainson, Arasaris Piquinaranja, several species of parrots, White Hawks, Blackhawks, Hawks grouse, three species of honeycreepers, many species of hummingbirds, a countless number of tanagers, woodpeckers, and four species of Trogón to name a few. Endangered species such as turkeys and peacocks can also be observed.
(0) Comments
Add Comment

Close
Be the first to comment on this listing!
Advertising
Gallery
Click the photos to enlarge
Features
Theme
Adventure
Bird Watching
Ecotourism
Families
Hiking
Honeymoon
Mountains
Traveler Type
Families
Single
Couple
Group
Map
Book